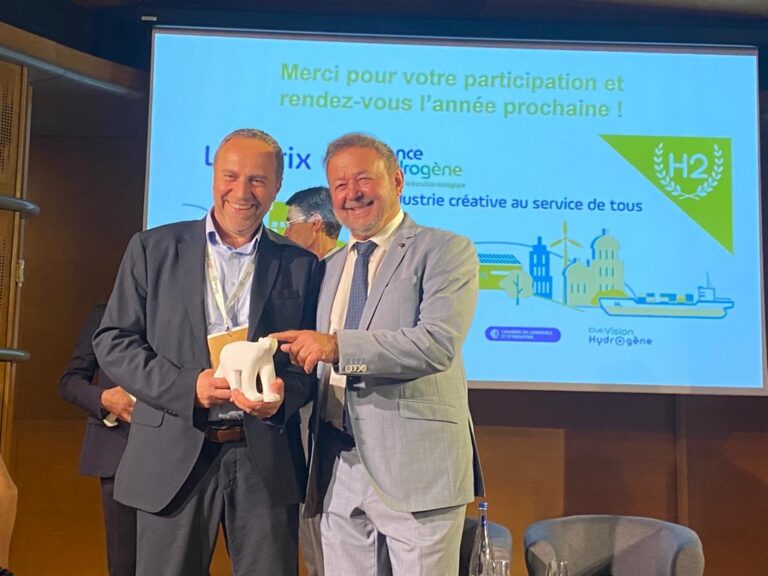 MINCATEC Energy was delighted to participate in the Hydrogen Days on June 13th and 14th, 2023, at the Palais Beaumont in Pau. It was an opportunity to showcase its solid hydrogen storage technology and its educational tool, SHYAM !
Our Chief Executive, Emmanuel BOUTELEUX, had the pleasure of participating in the workshop "HYDROGEN LOGISTICS: TECHNICAL SOLUTIONS FOR TRANSPORTATION AND STORAGE," where he delivered a conference showcasing our solid hydrogen storage technology based on metal hydrides, along with its numerous applicable applications
Mincatec Energy had the honor of winning the "Coup de Cœur" award at the France Hydrogène competition, presided over by Philippe BOUCLY ! The entire MINCATEC Energy team would like to express their gratitude to the jury, consisting of Jean-Luc FUGIT, Member of Parliament for Rhône and President of the Higher Energy Council, Michel DELPON, President of the Hydrogen Vision Club and President of the jury, David Pomonti, Head of Eco-Technologies in the Industrial Sectors Directorate of Bpifrance, and Wilfried KOPEC,Head of the "Aures infrastructures en réseau" department at FNCCR, for recognizing the several years of hard work and research we put into our solid hydrogen storage solution, resulting in a mature technology.