Solid hydrogen storage enables the creation of storage stations for non-dispatchable intermittent energies such as wind or solar power.
CLARA - Home energy self-consumption system
The hybrid energy self-consumption system utilizes solar panels to capture and store the surplus renewable energy in the form of hydrogen for use during the intersession period. The autonomous system incorporates an electrolyzer, metal hydrides hydrogen storage tanks, a traditional lithium-ion battery, a fuel cell, and electrical converters.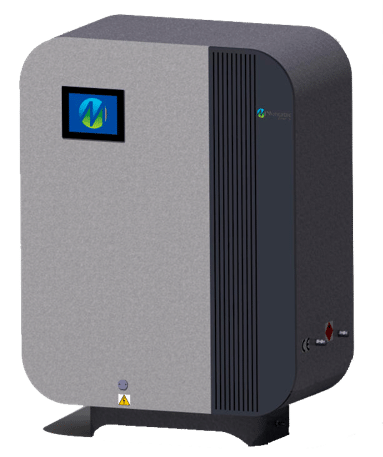 Leveraging technology for stationary self-consumption applications or towards achieving self-consumption:
Demonstrate the technical and economic feasibility of hydrogen production and storage using metal hydrides tanks for autonomous stationary applications.
Introduce to the market a complete and innovative solution that is scalable (in terms of hydrogen production, storage capacity, and electrical power), connected to renewable energy sources, and meets the needs of stationary markets.
To meet the self-consumption needs of residential buildings, collective housing, public facilities, and small to medium-sized businesses across multiple sectors such as artisans, farmers, and industries…
– Hydrogen storage capacity: 2 to 6 kg
– Power output: 6 to 9 kW
Let's build a zero-emission, sustainable, and secure energy future.